Science of Spirituality Cookbook with an Introduction by Rajinder Singh
VEGGIES & YOU is a collection of over 100 favorite recipes from cooking classes at the Science of Spirituality Meditation Center that you can now enjoy at home.
These recipes take the guesswork out of making easy, delicious and healthful, vegetarian meals.
Try those that appeal to you and then explore the various regional specialties to feel a sense of one-world family
Whether you're already a vegetarian or just want some creative ways to bring more plant-based, lacto-vegetarian, or vegan meals into your diet, the recipes in Veggies & You are sure to nourish you and wow your taste buds.
ISBN: 978-0918224-84-2
Available through bookstores everywhere.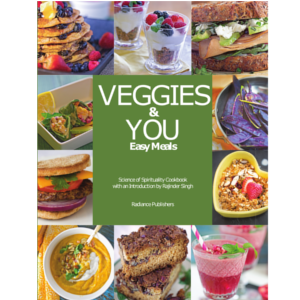 We should throw flowers of love to the right and left of us, in front and behind us, as we walk the byways of life
–Saint Rajinder Singh Ji Maharaj